To introduce all publications of STDJ to worldwide readers, VNUHCM Press deposit all published articles from 1998 to date and upcoming articles in Scilit.
Scilit—developed and maintained by MDPI—is a multidisciplinary, free scholarly database that indexes scientific material by extracting the latest data from CrossRef, PubMed and other sources on a daily basis. This means that newly published articles are added to Scilit almost immediately. It is a comprehensive database, covering all subjects from arts & humanities, behavioral sciences and social sciences to medicine & pharmacology, physical sciences, mathematics & computer science, chemistry and biology.
Visitors to Scilit can retrieve information about publications, journals and publishers free of charge. Publications can be searched based on title, abstract, or authors, or a combination of these fields. Search results include title, authors, published date, digital object identifier (DOI), a link to the publisher's website, abstract, comments from SciForum, and related articles. Readers also have access to information related to all the publishers included in our database (DOI prefix, journals, articles and website). Publishers now have the possibility to login and import their articles in order to improve the accuracy of content. At the moment, 8896 publishers appear in Scilit.
The fast pace of change in the world of technology has had a huge impact on academic publishing. Scilit aims to make research outputs more accessible, and ensure it reaches relevant researchers, industry partners, policy makers, and other interested parties as quickly as possible.
Please access and read STDJ publications in Scilit at here: https://www.scilit.net/journals/2806478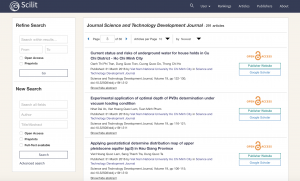 STDJ Team